ABOUT THE KRIYA PROGRAM
OUTLINE: Within the Teragy, Transition, and SAID programs, specific participants were demonstrating difficulty coping with busy, stimulating environments. Alternative Solutions management decided to design a program that would address the sensory needs of these participants within an environment that was conducive for learning. In September of 2004 the Kriya (meaning action and awareness) Program was established.
STAFFING: Staff to participant ratio is designed to provide intensive supports and address the needs of this population. A 1 to 2 staff -to- participant ratio varies based on many factors including the nature of the activity, individual behaviors, physical abilities and individual preferences. One-on-one facilitation for specific programming is also a component of this Day Program. Staff have received specific training in sensory processing disorders, autism and sensory treatment protocols.
LOCATION: Our program locations are 400-1615 Regent Avenue. The area is designed to meet the sensory needs of the participants and is wheelchair accessible.
TRANSPORTATION: Arranged by Community Services.
Computers
Delivering Flyers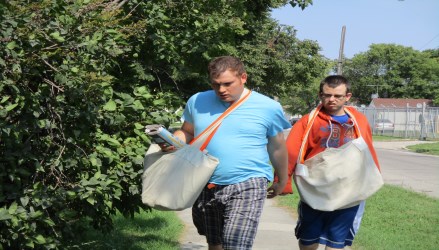 Sailing at Fort Whyte
Sleigh Ride at Bird's Hill Park
Recycling
Sensory Room
CONTACT INFORMATION
Alternative Solutions Day Services:
500 – 717 Portage Ave, Winnipeg, MB, R3G 0M8.
Ph: 204-786-7051,
Fax: 204-774-6468
PROGRAM STRUCTURE:
Components of the program include but are not limited to:
Sensory Programming
Social Skill Development/Maintenance
Physical Activity
Recreation/Leisure
Cooking Classes
Work Experience
Life-Skills Classes
Multi-Sensory Environments
Computer Programs
Community Exposure & Participation
Pre-Literacy/Literacy Activities
Arts Expression (Visual, Musical and Dramatic)